Midwest BayoGaaS™ Hydrogen Hub
Construction of BayoTech's first BayoGaaS™ Hydrogen Hub is now underway!
Located in Wentzville, Missouri, the facility will produce 350 tons per year of low-cost, low-carbon hydrogen for local industrial gas suppliers, fleet operators, fuel cell equipment manufacturers, and industrial hydrogen users. Customers within a 300-mile radius can access this dependable hydrogen starting in Q2 2023. Contact BayoTech to learn more about contracted volume pickup or delivery.
Interested in ordering hydrogen from our Wentzville Hub?
Fill out the form below and one of our sales representatives will reach out to discuss your needs.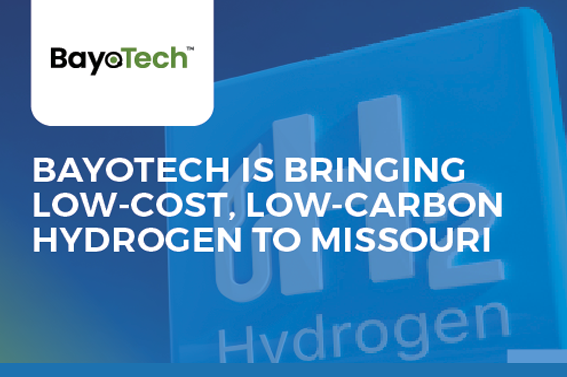 At BayoTech, safety is one our core missions.
BayoTech Partners with Ranken Technical College to Bring Low-Cost, Low-Carbon Hydrogen Production to Missouri  (read more >>)
The sale of hydrogen will provide hundreds of thousands of dollars in new tax revenue for the state and local government.
During the building of the hydrogen hub, 50 construction and manufacturing jobs will be created.
10 new full-time jobs with a priority on hiring in the local community.
Partnering with existing local companies to supply hydrogen where it is most in demand.
At our first hydrogen hub, we're partnering with Ranken Technical College in Missouri to develop programs that provide innovative training to equip the future workforce with the skills needed to support the hydrogen industry.
BayoTech is currently engaging communities across the country and sharing results and safety data with local elected officials and leadership to ensure that each community benefits from our hydrogen hubs.
Local community organizations that are making impacts in STEM, or are looking to, will have the opportunity to collaborate with us to further enhance their communities through volunteerism and philanthropy.