High-Capacity Helium Transport
Take charge of your helium supply with BayoTech's compact transport trailers.
BayoTech is a world leader in the transport and storage of high-pressure gases. Rely on our compact, cylinder-based equipment to transport large volumes of gaseous helium safely and efficiently.

Helium is a critical component in many fields, including scientific research, medical technology, high-tech manufacturing, space exploration, and national defense. We help you deliver helium on demand.
Want More Information About Our Helium Transport Solutions?
Fill out the form below and one of our sales representatives will reach out to discuss your needs.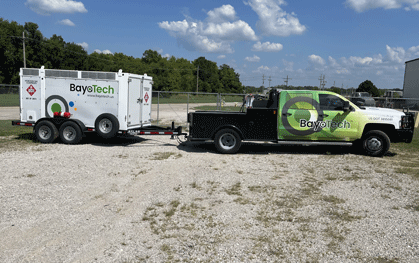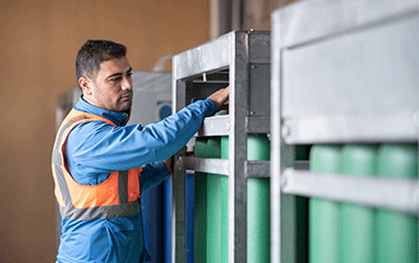 The lightweight, compact trailers are easily transported by pickup truck. Helium is delivered exactly where it's needed, whether that be a remote off grid location or busy urban setting.
The trailer can directly dispense helium into onsite storage cylinders or act as a temporary dispenser for short term projects.
BayoTech's transport trailers utilize the most efficient safety equipment in the industry.

All of our cylinders are fitted with our patented NorAm Valves thermal pressure relief device. Our proprietary, patented high-pressure valves provide the most lightweight, reliable, ball valve design for high-pressure cylinder-based gas storage. The ball valve configuration provides extremely high flow rates for both filling and discharging. Furthermore, they're designed for a 3x burst strength, considerably higher than the industry norm.

Our trailers also come equipped with emergency shut off devices, fire extinguishers, and welded manifold connection to mitigate potential manifold leaks.
Proven Performance:
BayoTech has produced over 700 units of gas transport and storage equipment. We adhere to North American codes & standards and stand behind every piece of equipment we manufacture.
450 bar Transport Trailers

Capacity (KGs)

Dimensions

11.54

133"L x 67"W x 60"H

78.67

238"L x 102"W x 64"H

157.34

238"L x 102"W x 104"H

245.84

336"L x 102"W x 121"H