High-pressure transport modules create a low-cost, flexible virtual pipeline
for the movement of compressed gases.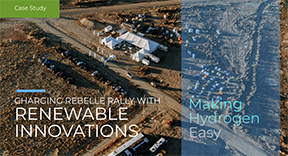 The Gas Transportation Module (GTM) Series from BayoTech™ is the smart, flexible way to transport large quantities of compressed gas in a small footprint. The GTM Series relies on bundles of high-pressure Type III cylinders to provide a lightweight, high-pressure package for transporting compressed gases. Trailers can be towed with a standard sized pickup truck. 
GTMs for Compressed Natural Gas
The GTM 250 line of CNG transports is the perfect solution for planned or unplanned pipeline shutdowns or to provide extra gas supply to downstream customers. It's the only gas transport on the market today that can deliver up to 54,000 scf and be towed by pickup truck. An optional heated regulator system safely and reliably reduces the trailer pressure to pipeline pressures without regulators freezing. Whether it's supplying a neighborhood, restaurant, or critical application, the GTM Series' low-profile look keeps the neighbors happy and reliably supplied with CNG.
Rely on BayoTech's GTM series for flexible hydrogen supply. The lightweight, compact trailers are available for purchase, lease or rental. Easily transported by standard pickup truck, the trailer can meet your fuel cell vehicle on location whether that be the test track, at the depot or on route. Fuel cell vehicles are refueled directly from the GTM trailer without additional infrastructure. Once depleted, hydrogen supply is replenished from our network of distributed hydrogen production hubs.
BayoTech's high-pressure trailers transport more hydrogen per load than traditional steel tube trailers.
The GTM meets your fuel cell vehicle or generator on-site, for quick refueling whenever and where ever it's needed.
BayoTech offers competitive rental, lease and purchase programs to match your business requirements.